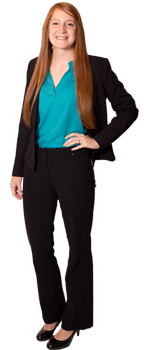 Kaitlin Giordano
Supervisor


(716) 701-7626
keg@bwbcpa.com

As a supervisor at Buffamante Whipple Buttafaro, P.C., Kaitlin Giordano helps to compile, review and audit financial statements and perform general tax assignments.
Before joining BWB, Kaitlin realized her most prided accomplishments to date—earning her Bachelor's in Accounting at the University of Pittsburgh at Bradford in 3 years, and her Master's in Business Administration with a concentration in Professional Accountancy from St. Bonaventure University in 1 year.  Two degrees in 4 years!
When she's not fulfilling her important duties at BWB, Kaitlin serves as the Secretary and a member of the board of directors for the Bradford Area Federal Credit Union, a member of the ELF Fund Festival of Trees board of directors, a member of the Institute of Management Accountants and Beta Gamma Sigma.   She also volunteers at the ELF Fund Senior Citizen Night and the Festival of Trees.
Fun Facts About Kaitlin


Describe your first car and what you loved or disliked most about it.  1997 Jeep Wrangler – I loved it as it perfectly suited my personality.  The color was periwinkle! 

What is your guilty pleasure?  Mint chocolate chip ice cream.